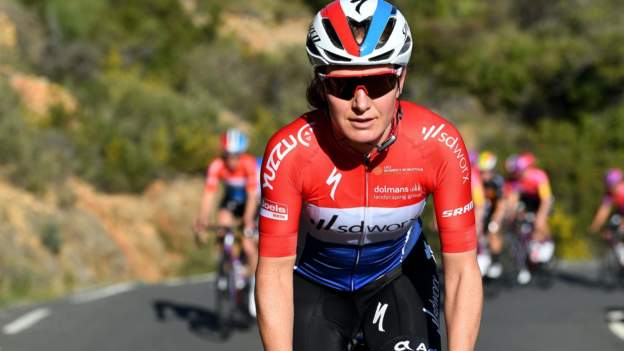 Pieters won stage two of the Women's Tour in 2021. She also became the Madison world champion for the third year in a row.
There is "still no clear picture" of Amy Pieters' future following the Dutch cyclist's training crash in December, says her team's sporting director.
Pieters, 30, had surgery to relieve pressure on her brain following the fall in Alicante.
She was transferred to a hospital in the Netherlands in January, where she remains in an induced coma.
Memory Map Explorer 1:25,000 Ordnance Survey Map 2015 - Sale
The Memory Map Explorer is the best possible outdoor map for harder walks and off-road riding. It transforms your PC/devices into the ultimate GPS system and it shows footpaths, bridleways and other rights of way along with thousands of points of interest! The 1:25,000 map is an intuitive and easy-to-use...
"The difficult thing about the situation is that it is still so uncertain," said SD Worx's Danny Stam.
Alongside Kirsten Wild, Pieters had become the Madison world champion for a third consecutive year and also won stage two of the Women's Tour in 2021.
She also won the Dutch national road race and Nokere Koerse in Belgium last year.
"If she can lead a decent life, I hope she wakes up," Stam told Dutch newspaper AD.external-link
"There is still no clear picture of what we can and cannot expect.
"The doctors say 'as long as she doesn't do things on command, she's not awake and we can't wake her'."
SOURCE:
BBC Sport – Cycling RSS
(go to source)
AUTHOR:
All copyrights for this article, including images, are reserved to the original source and/or creator(s).