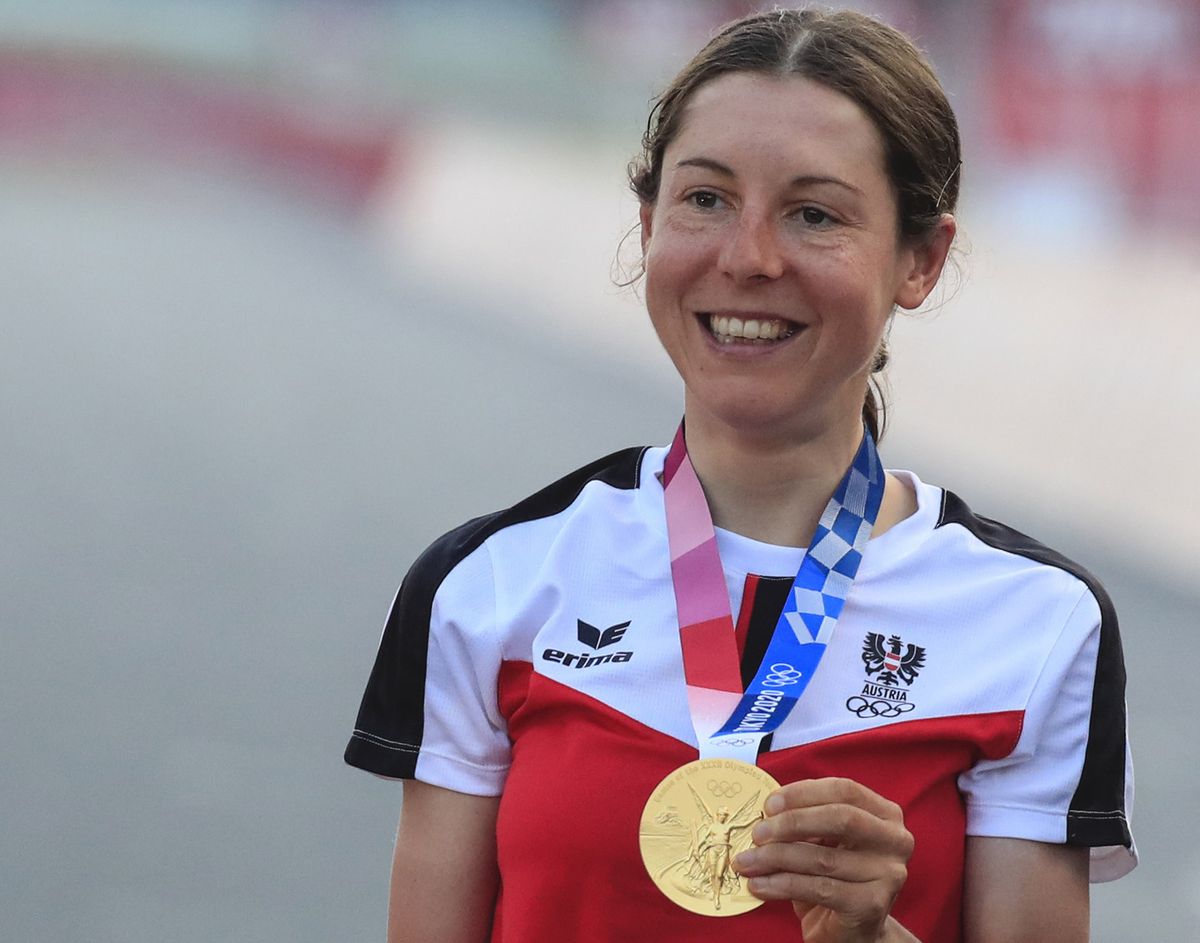 Olympic gold medallist Anna Kiesenhofer has recently been named Austrian sportswoman of the year and Lower Austria's sportswoman of the year after her surprise solo victory in the road race at in Tokyo earlier this summer.
The 30-year-old also won the 'international success' category at Die Presse magazine's annual Austrian of the Year awards, intended to recognise Austrians excelling in their fields.
"For me it's all about the spirit of sport. We are all trying our best," Kiesenhofer said when she received the sportswoman of the year title. "Until now, I had only heard about the Sports Personality of the Year awards. I never would have imagined I would win it."
Read more
Olympics: Shock gold for Anna Kiesenhofer in women's road race
Anna Kiesenhofer: Mathematician, amateur cyclist, Olympic champion
Anna Kiesenhofer the anti-authoritarian 'mastermind' of her own Olympic glory
"It's unbelievable, it's almost more surreal than when I won in Tokyo.
"So many awards," she added on Instagram last week. "A bit crazy, a bit nice, definitely exhausting!"
"This means that I have had more gala evenings in seven days than in the previous 30 years and that the recent investment in two gowns was worthwhile."
At a gala in Vienna, Kiesenhofer received the sportswoman of the year award alongside alpine skier Vincent Kriechmayr. She joins the likes of Anna Gasser and Annemarie Moser-Pröll as winners of the award.
The Lower Austria sportsman of the year title went to fellow cyclist and Tour de France stage winner Patrick Konrad, whilst the Austrian of the Year awards saw Kiesenhofer's Olympic success recognised in the company of scientists, humanitarians and activists.
Kiesenhofer's solo win in the road race at the Tokyo Olympics made history as Austria's first Summer Olympics gold medal since 2004, and the nation's first cycling gold since 1896.
Her achievement gained worldwide recognition as she was an amateur rider, working primarily as a mathematician at the École Polytechnique Fédérale de Lausanne, and had been a surprise winner of the race. Kiesenhofer had been in the breakaway all day before attacking with 41km to go to hold off the peloton and take the prestigious victory.
SOURCE:
CyclingNews
(go to source)
AUTHOR:
All copyrights for this article, including images, are reserved to the original source and/or creator(s).