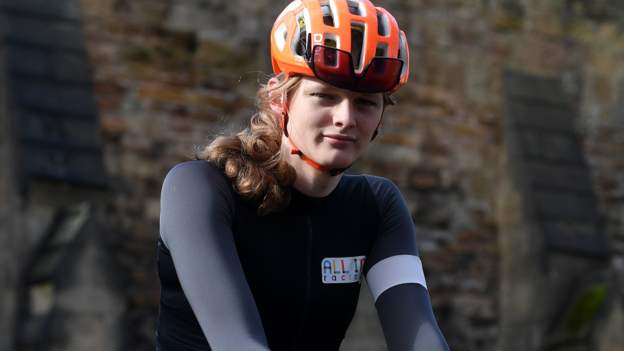 Emily Bridges previously set a national junior men's record over 25 miles and was selected to join British Cycling's senior academy in 2019
Transgender cyclist Emily Bridges will not compete at Saturday's National Omnium Championships in her first women's event after a ruling by cycling's world governing body.
The 21-year-old looked set to face some of the sport's biggest names, including five-time Olympic champion Laura Kenny.
However, British Cycling said in a statement on Wednesday: "We have now been informed by the Union Cycliste Internationale (UCI) that under their current guidelines Emily is not eligible to participate in this event."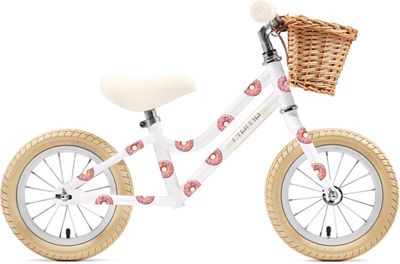 Creme Mia Balance Kids Bike - So Special - 12", So Special
Creme Mia Balance Kids BikeThis adorable balance bike is perfect for teaching your kid how to cycle at a young age, making it easier for them to pick up pedal bikes later. The design scales down the high-end construction of Creme's adult bikes, right down to the steel frameset and alloy rims, so your...
The UCI told British Cycling that because international ranking points are allocated at national championship events, Bridges' participation could only be allowed once her eligibility to race in international competitions is confirmed. That process is currently ongoing.
Bridges began hormone therapy last year as part of her gender dysphoria treatment and has now become eligible to compete in women's events because of lowered levels of testosterone.
In May 2021, she finished 43rd out of 45 riders in the elite men's criterium at the Loughborough Cycling Festival and in September she was second to last in the Welsh National Championship road race, a 12km lap behind the winner.
Last month, Bridges won a men's points race at the British Universities Championships in Glasgow – her final men's race.
British Cycling's transgender regulations require riders to have had testosterone levels below five nanomoles per litre for a 12-month period prior to competition.
"We have been in close discussions with the UCI regarding Emily's participation this weekend and have also engaged closely with Emily and her family regarding her transition and involvement in elite competitions," said British Cycling.
"We acknowledge the decision of the UCI with regards to Emily's participation, however we fully recognise her disappointment with today's decision.
"Transgender and non-binary inclusion is bigger than one race and one athlete – it is a challenge for all elite sports."
BBC Sport has approached the UCI for comment about its decision but the governing body has yet to respond.
Earlier this month, US college transgender swimmer Lia Thomas won the 500-yard freestyle and finished fifth and eighth in other races at the NCAA Championships.
Thomas was backed by an open letter from 300 swimmers, including rival Erica Sullivan – but her inclusion also faced opposition from another competitor, Hungary's Reka Gyorgy, as well as Florida governor Ron DeSantis.
Asked about the issue, World Athletics president Lord Sebastian Coe claimed the "integrity" of women's sport was at stake and its future was "fragile".
Coe also called on the International Olympic Committee (IOC) to introduce regulations that can be applied across every sport and insisted "gender cannot trump biology".
British Cycling has also called for a coalition across a number of sports – involving governing bodies, athletes, the transgender and non-binary athlete community and the government – to work together to "find a better answer".
"We also understand that, in elite sports, the concept of fairness is essential," it said.
"For this reason, British Cycling is today calling for a coalition to share, learn and understand more about how we can achieve fairness in a way that maintains the dignity and respect of all athletes."
Former Great Britain Olympic swimmer Sharron Davies, who has criticised British Cycling for initially allowing Bridges to take part in the women's race, said female cyclists had been "thrown under the PC bus" by the governing body.
"Time for true female athlete equality of opportunities in cycling," she tweeted. "Find better ways of being inclusive (which we all want)."
Labour MP Tonia Antoniazzi, speaking in the House of Commons earlier on Wednesday, said the Government needed "urgent conversations" with British Cycling about their policy of transgender inclusion.
However on Thursday Liz Ward, director of programmes at campaign group Stonewall, said Bridges "hasn't been given a fair chance to compete in Saturday's race."
"It is disappointing that UCI have overruled British Cycling's competition criteria, which Emily was in full compliance of," she said.
"British Cycling had already extensively consulted on their trans-inclusion policy which is fully in line with International Olympic Committee guidelines. Our thoughts are with Emily."
UCI president has concerns about fairness of competition
Shortly before British Cycling's announcement, UCI president David Lappartient told BBC Sport he was "worried" the inclusion of transgender athletes could affect the fairness of competition in cycling.
In an interview earlier on Wednesday, Lappartient said the rules regarding permitted testosterone levels in transgender athletes is "probably not enough".
But he added the governing body "fully recognises the rights of transgender athletes to do sport".
"We fully recognise the rights of people to change and to make that transition," said Lappartient, who was talking generally about the issue and did not directly address Bridges' case.
We fully recognise the rights of transgender cyclists – UCI president
"I'm a little bit worried that [their participation in women's events] will affect the fairness of competition. I believe that maybe the situation we have now, of the rules of five nanomoles per litre [to measure testosterone levels], is probably not enough.
"When I speak with some professors in medicine, some specialists, they say, 'yes, your body probably has a memory already of what you are and so there is maybe some advantages'.
"But is there a memory from your body from what you were before – and do you have advantage for this? Is it a bridge of fair competition?"
When British Cycling updated its rules surrounding transgender athletes in January, it decided trans athletes needed to have their testosterone below five nanomoles per litre for a year to compete against other women.
Men typically have between 10 and 30 nanomoles per litre depending on age and time of day. But a young healthy male's level of testosterone will range from 20 to 30, compared with a female's range of 0.7 to 2.8, according to the NHS.
Again, speaking earlier on Wednesday, Lappartient told BBC Sport many female cyclists had registered their concern with the UCI over fairness of competition and "do not accept" the current controls.
SOURCE:
BBC Sport – Cycling RSS
(go to source)
AUTHOR:
All copyrights for this article, including images, are reserved to the original source and/or creator(s).