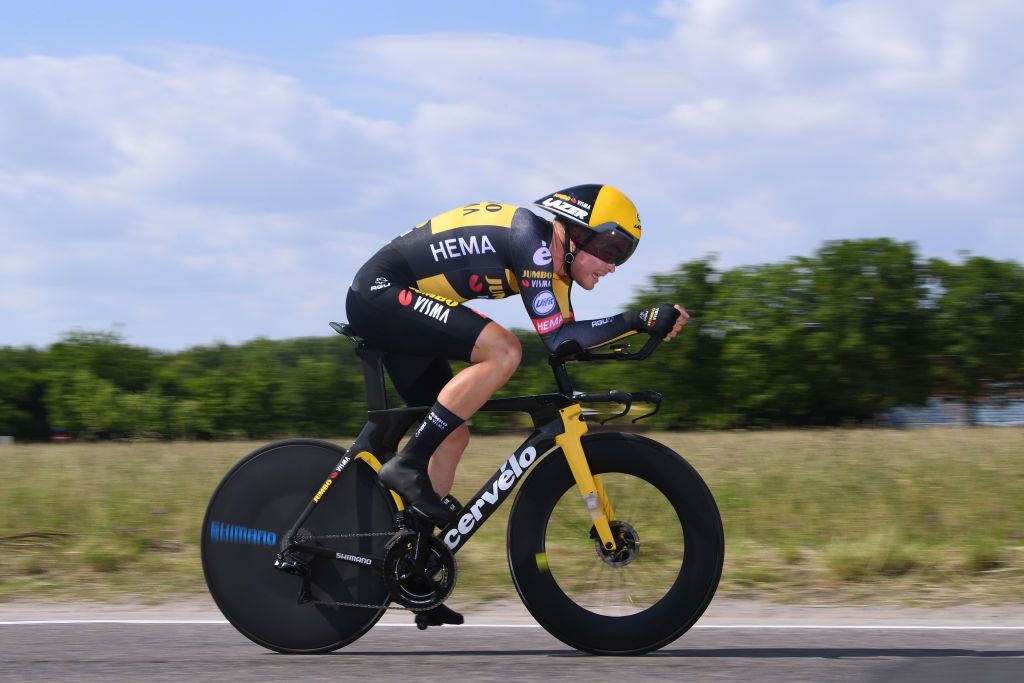 Tobias Foss (Jumbo-Visma) has taken out his first elite national title, securing the time trial win at the Norwegian championships with a clear victory in the fifty kilometre race against the clock. 
Foss finished with a time of 56:54, 1:19 ahead of his nearest rival Søren Wærenskjold (Uno-X Pro Cycling Team) and 2:26 ahead of Andreas Leknessund (Team DSM), who beat Foss to the title last year.
"This was a very good time trial," said Foss in a statement. "It was going well from the start. I rode a good pace and was able to make my pedal strokes in a good rhythm from the start. Along the way, I got the feeling that I could decide this time trial in my favour. I even managed to enjoy my time trial."
Foss has won the time trial title in both the junior and under 23 categories, but it was a first in the elite category for the 24 year old Foss, who is also representing Norway in the discipline at the Olympic Games. 
The victory, his first of the season, comes after Foss took third on the opening time trial at the Giro d'Italia. The team's focus had been on supporting New Zealand rider George Bennett for the overall at the Grand Tour but then Foss continued to look strong as Bennett struggled in the tough cold weather conditions, so halfway through the team changed strategy. 
The goal became a top-ten finish for Foss who was racing just his second Grand Tour and had left the first, last year's Giro, after the ninth stage. Continued solid results on the climbs and in the final time trial meant Foss ended up securing the goal with room to move, ending up in ninth on the overall.
"It's been going really well since the Giro and I'm glad I was able to continue the good form," said Foss.
Next stop for the rider, who won the Tour de l'Avenir in 2019, will be the road race at the Norwegian Championships.
"This course is not really in my favour. Nevertheless, I want to ride in the front there too and seize any opportunity with both hands," said Foss. "For now I'm just enjoying today's victory. I'm looking forward to riding my time trials in the national jersey in the coming year."
SOURCE:
CyclingNews
(go to source)
AUTHOR:
All copyrights for this article, including images, are reserved to the original source and/or creator(s).