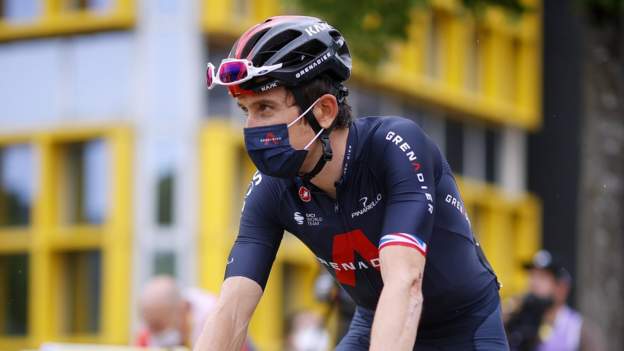 Geraint Thomas enjoyed a more positive day at the Tour de France having suggested before stage nine that he could withdraw from the race.
Welshman Thomas, 35, rode strongly to finish 19th on Sunday, leaving him 20th in the overall standings.
The 2018 Le Tour champion was much happier with his performance than he had been following stage eight.
"I think it was just because I got a chance to get into the stage a bit," Thomas said.
"Yesterday we started riding on a climb and I was out and couldn't get back. It was a hard start, I managed to hang in and obviously I was a lot more up for it.
"After such a poor performance I was keen to rectify that. An extra coffee on the bus and a bit more attitude. I felt okay once we got on the long climbs."
Thomas worked hard on stage nine to support Ineos Grenadiers team-mate Richard Carapaz.
"We tried to up the pace at the end to put the guys around Billy (Carapaz) on the back foot," he added.
Thomas said he and his team would "weigh it all up" before deciding whether he would continue competing in this year's Tour de France after Monday's rest day, adding "I've made the dilemma even worse for myself now."
Before Sunday's racing Thomas had said he would make a decision on Monday.
"To be honest I can't see today being much different than yesterday," he said prior to stage nine.
"We'll get stuck in and see what happens and I can sit down with everyone tomorrow and make a decision.
"Obviously the way the race was, there was no going back.
"It was just a long day. It was hard, mentally more than anything, because I came here to try to be at the top of the thick end of the race.
"To be back in the grupetto was not enjoyable but it was just what I had."
Thomas lost time after he was involved in a crash in which he dislocated his shoulder early on the 182.9km stage three.
Primoz Roglic, who was also involved in a crash during the same stage, has now pulled out of the race.
"We took the decision altogether with the team, it doesn't make sense to continue the way it was going at the end," Roglic said in a statement from his team.
"Now we'll definitely try to recover and focus on the new goals."
The other withdrawal before stage nine was Mathieu van der Poel, who led the race until Saturday after winning stage two.
The Dutch rider is to concentrate on preparation for the mountain bike race at the Tokyo Games later this summer.
"Unfortunately I will not start today," said Van der Poel at the start in Cluses.
"We decided with the team that it's in my best interests to quit the race and focus on the Olympics."
SOURCE:
BBC Sport – Cycling RSS
(go to source)
AUTHOR:
All copyrights for this article, including images, are reserved to the original source and/or creator(s).