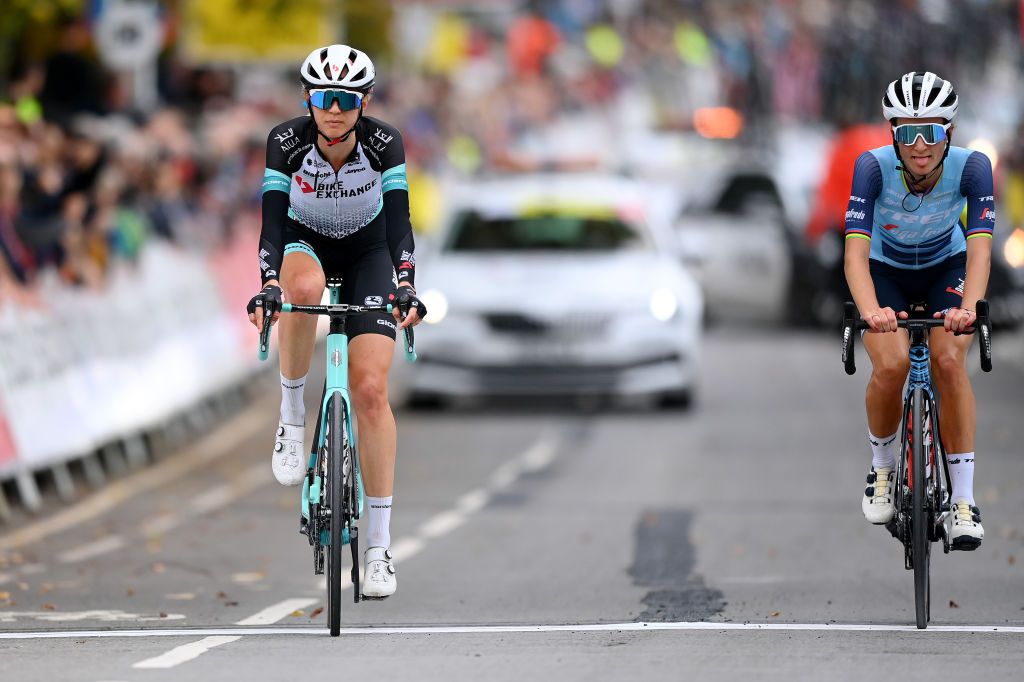 Lucy Kennedy (Team BikeExchange) had retired from cycling after the Tour de l'Ardèche in September, finishing fifteenth overall in the French stage race where she had celebrated her first European victory four years before. The crash of Georgia Williams, however, in the inaugural Paris-Roubaix Femmes ruled the New Zealand champion out of The Women's Tour, and Kennedy was called up to ensure a six-rider squad could start the British stage race.
Given the short notice and the fact that she had already been retired for 19 days, the 33-year-old rode in support of her team without any personal ambitions. She finished 39th on stage 1 where her teammate Sarah Roy placed 11th, but stage 2 was a different matter.
It had started to rain in the morning, and the weather became worse throughout the day. In these conditions and with the previous day's crash in mind, Kennedy – who this year has already had to face a long recovery from multiple fractures after a crash at Liège-Bastogne-Liège – made the decision not to risk her health and abandoned the race.
Team BikeExchange press officer Lucy Martin explained: "Lucy had prepared for Ardèche as her final race. Calling her up was simply a necessity to be able to start with six riders. As expected, she wasn't 110% prepared, and it is a race at a very high level. Under the harsh conditions today, she suffered and was scared to crash and break any bones."
Coming from a triathlon and cross-country running background, Kennedy was a lateral recruit to road cycling at the age of 26. In 2017, she raced in Europe for the first time with the Australian national team, winning the Tour de l'Ardèche, and turned pro with Mitchelton-Scott (now Team BikeExchange) the following year. 
Her biggest success was a solo victory in the inaugural women's Donostia San Sebastián Klasikoa in 2019, a race that has since become part of the Women's WorldTour. That was a year where the results kept coming for Kennedy, winning the Women's Herald Sun Tour – a title she also defended in 2020 – plus she took victory at Durango-Durango Emakumeen Saria and delivered a painstakingly close second place at the Giro d'Italia Donne that year, when it looked like she'd won and Marianne Vos came from behind and charged over the line. She also secured second at the Cadel Evans Great Ocean Road Race and on the overall of the Santos Women's Tour.  
"Now that I've definitely done my last professional race, I can start to reflect on my career," said Kennedy. "While I am proud of my handful of victories and successes, I don't think those are the moments that I'll look back on most fondly. The relationships I've built with teammates are some of the strongest of my life because we've shared such a unique path and I'll forever be grateful for them.
"I feel proud to have been part of the GreenEdge team for the entirety of my career; I could not imagine feeling at home anywhere else, while being so far away from my Australian home. I've packed some of the most incredible and the most difficult parts of my life into the last four years. It has certainly shaped who I am. I thank everyone who has been part of this amazing journey. I'm now looking forward to some rest and relaxation before shaping my life after professional cycling."
SOURCE:
CyclingNews
(go to source)
AUTHOR:
All copyrights for this article, including images, are reserved to the original source and/or creator(s).