With tubeless tyres becoming more and more prevalent, never has there been a better time to invest in tyre sealant. Effetto Mariposa's Caffelatex Tyre Sealant is an innovative sealant that has long been proven at the highest level on and off-road. Highly effective tyre sealant that lasts up to 2 years in a tubular tyreFoaming action when wheel is turning helps to prevent puncturesMicroscopic silicate particles also help to provide quicker sealing, resulting in less air loss when you punctureSeals holes up to 5mm on an MTB tubeless tyreContains no ammonia and is non-corrosive, making it safe to use in tubular tyresCaffelatex's formula contains microscopic silicate particles, allowing the...
Best Price: £23.80 from Tweeks Cycles
| Stockist | Catalogue Product Name | Price | |
| --- | --- | --- | --- |
| | Effetto Mariposa Caffelatex Sealant | £23.80 | Visit Store |
Related Products
Effetto Mariposa Caffelatex Sealant - 1000ml
Effetto Caffelatex Tubeless FluidThis tubeless tyre sealant from Effetto is an effective and successfully sealant designed for use for off-road, road, tubeless, tubular and inner-tube bikes. Providing you with a durable, reliable, puncture-resistant sealant, it is ammonia-free and does not include any...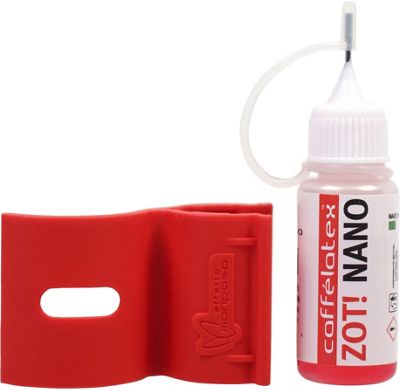 Effetto Mariposa Caffelatex ZOT! Nano Tyre Sealant - 10ml
Effetto Mariposa Caffelatex ZOT! Nano Tyre SealantCaffélatex Zot! is an instant polymerisation catalyser for Caffélatex, useful in cases of significant tyre damage such as when the damage size exceeds the maximum sealable by normal tyre sealants (around 5mm) and Caffélatex sealant escapes the hole...
Effetto Mariposa Caffelatex Remover
Those of you who have seen the dried remains of tubeless sealant in a tyre will know it can be a real pain to remove all remnants. This is where Effetto Mariposa's Caffelatex Remover comes in. Caffelatex Remover is designed to soften or dissolve dried out natural or synthetic latex stains from ...