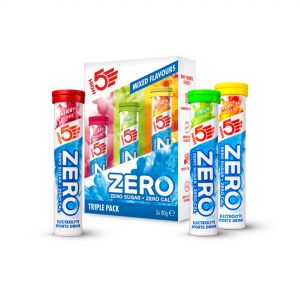 The High5 Zero Hydration Tablet Triple Pack is a great pack to test a selection of our great tasting hydration tablets in a mix of flavours. ZERO is a refreshing, great tasting sugar free electrolyte drink with zero calories for during exercise and throughout the day.Light & refreshing electrolyte drink with natural fruit flavoursReduces tiredness and fatigueSugar free with zero caloriesContents: 20 tablets per tubeSuitable for vegetarians and vegansSuitable for a wide range of sporting activitiesZero is designed to be taken Before, During and After exercise and in hot weatherPack contents: 3x ZERO (1x Berry, 1x Citrus, 1x Tropical)Zero is a refreshing sugar free electrolyte drink with zero...
Best Price: £18.89 from Tweeks Cycles
| Stockist | Catalogue Product Name | Price | |
| --- | --- | --- | --- |
| | High5 Zero Hydration Tablets Triple Pack | £18.89 | Visit Store |
Related Products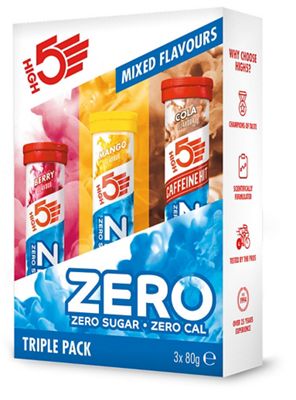 HIGH5 ZERO Ltd Triple pack AW21 - One Size
HIGH5 ZERO Ltd Triple Pack Keeping you hydrated during your most intense training sessions, the HIGH5 ZERO Ltd Triple pack includes three tubes of 20 hydration tablets in three fantastic flavours – Berry, Mango and Cola. Each tablet dissolves in water to create a refreshing sugar free, electrolyte...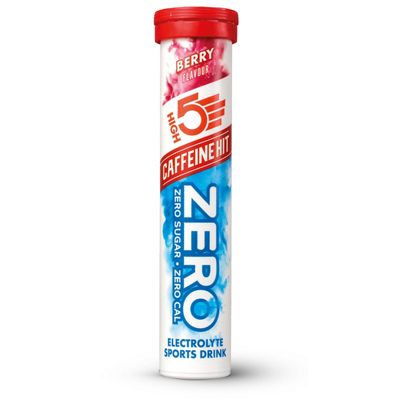 HIGH5 Zero Caffeine Hit Drink Tablets - 20 Tablets
HIGH5 ZERO Caffeine Hit TabletsZERO Caffeine Hit is an award-winning electrolyte sports drink tab with caffeine. It produces a clean tasting and highly refreshing drink with zero calories.The tabs contain light natural flavours with no artificial colours or preservatives. Used by athletes before and...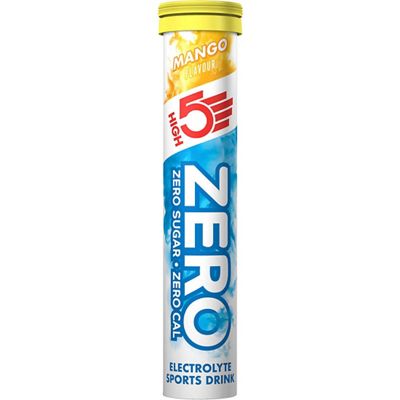 HIGH5 Zero 20 tabs - 20 Tablets
HIGH5 ZERO (20 Tabs)Enjoy the performance benefits of the UK's leading electrolyte tablet from HIGH5. The Zero electrolyte drink Tablet offers a clean, fruity, refreshing drink to the thirsty athlete. Suitable for athletes in any field like cycling, football, rugby, running, triathlon, golf, tennis,...