The Aqua Proof Paste from Morgan Blue is a synthetic grease that helps to prevent rust forming on metal components and parts. Especially suited for use in assembling your seat post, bottom bracket, headset and screws/bolts making parts waterproof and helping to prolong the life your components. Very High AdhesionExtremely Water-Repellent, Even In Sea WaterGood Lubricating PropertiesNOT for use in hubs
Best Price: £13.55 from Tweeks Cycles
| Stockist | Catalogue Product Name | Price | |
| --- | --- | --- | --- |
| | Morgan Blue Aqua Proof Paste - 200ml Tub | £13.55 | Visit Store |
Related Products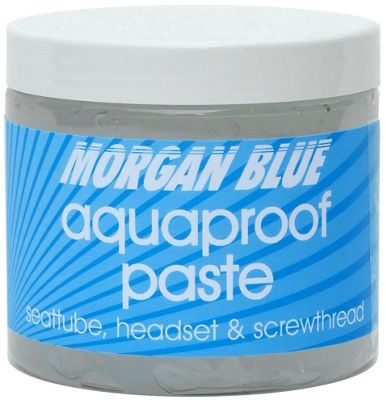 Morgan Blue Aquaproof Paste Installation Compound - 200ml
Morgan Blue Aquaproof Paste Waterproof GreaseAquaproof Paste is a synthetic grease that prevents the oxidation of metal parts.Application: DO NOT use in the hubs! Aquaproof Paste is especially developed for assembling seatpost (seat tube), bottom brackets, headset and screws. This grease makes the parts...
Morgan Blue Carbon Assembly Paste 100ml
The Carbon Assembly Paste from Morgan Blue is for use when Carbon meets Aluminium and is also great for Carbon on Carbon applications. Ideal for use on components such as your seat post, handlebars/stem, and other components. The high adhesive properties also mean you may be able to reduce your...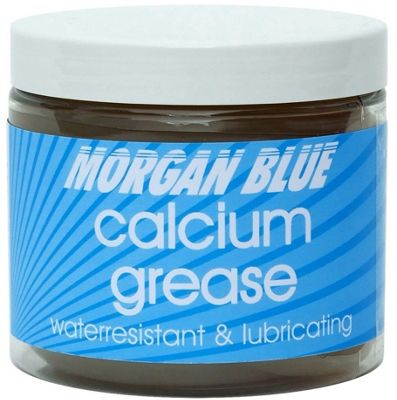 Morgan Blue Calcium Grease - 200ml
Morgan Blue Calcium GreaseFirm grease based on Calcium and used for a wide variety of applications. Originally this grease was used for maintenance in the naval industry. Calcium Grease is used for the general assembly of bike components and the lubrication of moving parts. Ideal for use with bearings,...