Not tried Torq before These delicious, moist organic energy bars have a super soft formulation, making them easy to eat in all weather conditions. Extremely low in fat, each 45g bar contains 34g (134 kcal) of multi-transportable carbohydrates in a research-proven 2:1 formulation. This allows you to consume up to 3 Torq bars per hour without risk of gastric distress, in conjunction with the Torq Fuelling System.Part of the Torq Fuelling System Fast-acting 2:1 Maltodextrin: Fructose formulation - up to 3 bars per hourBars: 34g carbohydrates / 154 kcal energy per 45g barChew Bars: 30g carbohydrates / 130 kcal energy per 39g barVery low in fatMoist and chewy textureCertified OrganicVegan recipe100%...
Best Price: £10.36 from Tweeks Cycles
| Stockist | Catalogue Product Name | Price | |
| --- | --- | --- | --- |
| | Torq Organic Bar Sampler Pack | £10.36 | Visit Store |
Related Products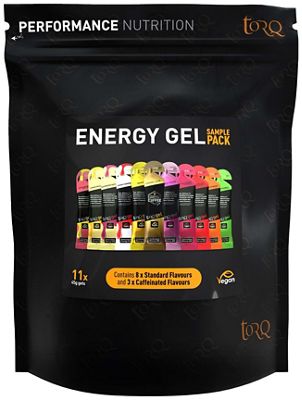 Torq Gel Sampler Pack - Box Of 11 - Black / Box Of 11
Torq Gel Taster Pack (11 Flavours)Allowing you to try out the full spectrum of Torq energy gels, the Torq Gel Taster Pack includes 11 gels, all in different, tasty flavours, with 3 gels with added caffeine.In the Box1 x Apple Crumble Energy Gel (45g)1 x Black Cherry Yoghurt Energy Gel (45g)1 x Orange...
Torq Explore Flapjack Sampler Pack
Torq s award-winning Explore flapjacks are a delicious natural snack at any time of the day. Energy-enriched, soft and syrupy, yet very low in fat, TORQ Explore flapjacks are vegan-friendly and are certified Organic by the Soil Association. Organic certification means that the ingredients used in our...
Torq Recovery Drink Sampler Pack
If you train on a regular basis, you should consider a recovery drink as part of your regime. Torq Recovery uses a research-proven 3:1 carbohydrate: whey protein isolate formulation with a full vitamin and mineral content. Mixing with water for a silky-smooth texture, Torq Recovery is enhanced with 2...